It's October 17, which means that it's exactly three months until the release of my next book! One Last Shot is a YA historical verse novel about photojournalist Gerda Taro. I love Gerda so much and I can't wait to introduce her story to readers. Since it's getting closer to release, I wanted to share a look behind the scenes of how the book came together, starting with a glimpse into my inspiration to tell Gerda's story.
Early in the morning of August 1, 2018, I opened Google to find the following:
This impish girl with the camera immediately drew my attention, so I obviously clicked on it to learn more. So began my journey learning about Gerta Pohorylle (aka Gerda Taro). I was intrigued enough by what I saw at first glance that I quickly ordered several books about her and her more famous partner, André Friedman (aka Robert Capa).
One of the first books I devoured was Eyes of the World by Marc Aronson and Marina Budhos, a YA nonfiction book about Taro and Capa and their collaboration. Their book includes tons of photographs of and by Taro and Capa, and it got me all the more intrigued to learn more. Irme Schaber's biography, Gerta Taro: Fotoreporterin im spanischen Bürgerkrieg (in German), was by far the most comprehensive work I read about Gerda, and Jane Rogoyska's biography, Gerda Taro: Inventing Robert Capa, was also extremely informative.
Also incredibly important to me was studying the photographs themselves, both on the International Center of Photography's (ICP) website and in Trisha Ziff's fabulous film about the Mexican Suitcase, curated by Cynthia Young at the ICP.
Finally, I'm married to a Spaniard myself, and while I've been to Spain many times, this past summer I was lucky enough to follow Gerda's footsteps in Madrid and the surrounding area with help from historians Alan Warren and Almudena Cros. I'm so grateful for their efforts!
One Last Shot will be published on January 17, 2023. It's so soon! Please do add it to your Goodreads list, pre-order if you can, and share with all your friends! Thank you!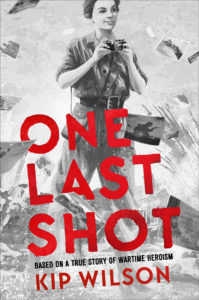 Add to your TBR list: Goodreads
Pre-order: The Silver Unicorn | B&N | Bookshop | Book Depository | Amazon