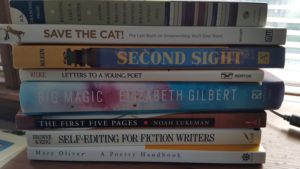 In this pre-PitchWars season, I thought it might be helpful to share some of my favorite craft books in case anyone is struggling with preparations. Critique partners and beta readers are excellent (essential!) in pointing out any issues in a manuscript, but because in the end, the fixing of any issues come down to you, the writer, the right guide can sometimes help you see solutions that you're unable to pinpoint on your own. A quick summary of some of my favorites:
READING LIKE A WRITER by Francine Prose. I picked this one up because I love Prose's fiction, but this book is a great guide at any stage in the process. The premise is that creative writing can be taught through close readings of masterpieces, outlining how to do so looking at everything from words to characters to dialogue. It also serves to remind that there's no substitute to reading recently published books in your genre.
SAVE THE CAT by Blake Snyder. Originally a guide for screenwriters, this book walks writers through a "beat sheet" with details on how to nail down a manuscript's structure. Though most helpful in the initial outlining stage, this is also a great tool in working through any plot issues in revisions.
SECOND SIGHT by Cheryl Klein. This is my go-to craft book for revisions. I've taken her amazing revision class as well (ask me about my bookmap), and can't recommend it enough. Her advice and exercises can really get you to the heart of your story.
LETTERS TO A YOUNG POET by Rainer Maria Rilke. This collection of letters, sent to a young cadet in military school, contains inspirational advice that is applicable to most of us. I like to read it and pretend the letters were written to me.
BIG MAGIC by Elizabeth Gilbert. This is a truly magical guide to stepping away from fear and writing books of your heart.
THE FIRST FIVE PAGES by Noah Lukeman. While only beginnings are stressed in this book, a clean, hooky beginning is essential in querying, contests, or even once published. This guide covers some typical issues and offers solutions.
SELF-EDITING FOR FICTION WRITERS by Renni Browne and Dave King. For the most part, this guide gets into the nitty gritty of typical issues found in manuscripts with some great exercises and checklists.
A POETRY HANDBOOK by Mary Oliver. I love poetry, and this is a great guide for poets, but I'm including it in my list because the musicality of language is important for writers of prose, too.
This is by no means a complete list of craft books! But hopefully at least one of these will be just what someone needs, and in the meantime, if you have any others to share, please do!