Welcome to my website! I'm Kip Wilson, young adult author of White Rose (2019), The Most Dazzling Girl in Berlin (2022), and One Last Shot (2023), historical novels-in-verse published by Versify. Looking for a press kit? Find that here. For my work as a translator? Find that here. Schedule an author visit here, and find out where to catch me in person here!
About One Last Shot:
From critically acclaimed author Kip Wilson comes this gripping coming of age historical fiction novel in verse about Gerda Taro, a vibrant, headstrong photojournalist with a passion for capturing the truth amid political turmoil and the first woman photojournalist killed in combat.
The daughter of Polish Jewish immigrants, Gerta Pohorylle doesn't quite fit in. While she's away at boarding school, however, she becomes a master at reinventing herself. When she returns from school, she gets more involved with left-wing groups as Germany splits into political extremes and after she's arrested for distributing anti-Nazi propaganda, Gerta and her family decide she must leave Germany. 
In Paris, Gerda meets André Friedman, a Hungarian photographer eager for fame and fortune, who fosters Gerda's interest in photography and how it can be as much of a tool for broadcasting her beliefs as protesting and demonstrations. Together the pair invents Robert Capa, a rich American photographer, and soon they're selling "Capa's" work for high prices and to great acclaim. Soon after, Gerda begins selling her own work under the last name Taro and the pair take on more assignments, jetting off to Spain to cover the growing conflict that quickly becomes the Spanish Civil War.
As Gerda pushes closer and closer to the front line, eager to capture the lives and vibrant hopes of those fighting against fascism, she begins to lose track of, and regard for, her own safety.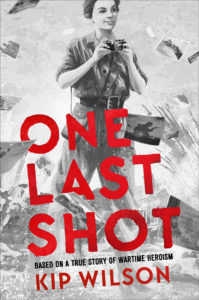 I absolutely love how the cover captures Gerda's spirit! The art is by Mark Smith and design by David Curtis. 
Praise for One Last Shot:
"Wilson shares Pohorylle's story with stunning efficiency through an economy of language that wrings sweetness from every word." – Kirkus Reviews, STARRED review
"Wilson's poems read so smoothly, and her subject is so compelling, that readers may be tempted to race through, but slowing down or reading aloud illuminates the full depth and poignancy that's on display." – Booklist, STARRED review
"Expertly researched and told in verse sharp and shining as a camera flash, Kip Wilson captures the life of Gerda Taro in thrilling, heartbreaking snapshots to tell the fascinating story of a talented and passionate young woman who sought to bear witness to and expose the dark truths of war and fascism at any cost." – R. M. Romero, author of The Ghosts of Rose Hill, A Warning About Swans, and The Dollmaker of Kraków
"Though fiction, One Last Shot adheres closely to the true story of Gerda Taro, the first woman photojournalist killed in combat. Gerda came of age as the wave of fascism rose and surged through Europe. One Last Shot sounds an alarm. It reads like a roadmap to tyranny. Its relevance could not be more clear. Wide awake to personal danger and to the larger stakes, Gerda dove in with her camera and her heart determined to turn the tide of history. Her belief in herself as an equal to men, her fervent resistance and her courage to take action offer ideals for women today." – Mary Cronk Farrell, author of Close Up on War: The Story of Pioneering Photojournalist Catherine Leroy in Vietnam
"In this extraordinary, moving, and carefully researched novel, Kip Wilson breathes photojournalist Gerda Taro to life in a story that's heart-pounding, heart-breaking and so terribly relevant today. This story will stay with me for a very long time." – Susan Campbell Bartoletti, author of Hitler Youth: Growing Up in Hitler's Shadow and Black Potatoes: The Story of the Great Irish Famine, 1845–1850
More About One Last Shot:
One Last Shot is now out!
Add to your TBR list: Goodreads
Order: The Silver Unicorn | B&N | Bookshop | Book Depository | Amazon 
About The Most Dazzling Girl in Berlin:
After her eighteenth birthday, Hilde, an orphan in 1930s Berlin, goes out into the world hoping to find her place. She comes up short, at least until she stumbles into Café Lila, a vibrant club full of love and music, and meets Rosa, the club's waitress and performer, whom she can't take her eyes off of. There, Hilde starts to find her voice and embrace her blossoming feelings for Rosa.
But Berlin is in turmoil. Between elections, protests in the streets, and the growing unrest in Café Lila itself, Hilde will have to decide what's best for her future . . . and what it means to love a place that will soon be changed forever.
The gorgeous cover, with artwork by Ana Novaes and design by Kaitlin Yang and Samira Iravani:
Praise for The Most Dazzling Girl in Berlin:
"The free-form verse is inviting and masterfully captures the mood and times in sparse poetry, making this work equally appealing for pleasure reading … Wunderbar!" – Kirkus Reviews, STARRED review
"Wilson crafts a beautiful coming-of-age story that captures the joy of young independence against a backdrop of fear and foreboding on the precipice of the Third Reich." – School Library Journal, STARRED review
"Hilde is impressively relatable to a modern audience despite her differing life circumstances, and queer teens may glean comfort in her Café Lila found family—but everyone could stand to gain from Hilde's resilience against the odds in an uncertain world." – Bulletin of the Center for Children's Books, STARRED review
"The language is as shiningly beautiful as the leading characters, Hilde and Rosa, and an absolute pleasure to read. A brilliant addition to the canon of LGBTQ young adult literature." – The Historical Novels Review, EDITOR'S CHOICE
"This beautifully realized novel in verse succeeds on every level–as a work of historical fiction vividly bringing the past to life, as a love story, as a story about overcoming one's personal fears, and as a work illuminating chilling parallels between Germany in the early 1930s and western society today." – Cooperative Children's Book Center, review of the week
"Versify's forthcoming verse novels include Kip Wilson's The Most Dazzling Girl in Berlin (Mar., ages 12 and up), set amid the queer cabaret culture of the 1930s; PW's review said, 'It's the era's politics—and their connection to the present day—that give the Cabaret-tinged story its urgent momentum.'" – Publishers Weekly, Stanza and Deliver: Children's Novels in Verse
"Like in Telegraph, Kip Wilson's sophomore novel is about a young woman exploring her sexuality during a time when it wasn't necessarily safe to do so in public and is set at a club that attracted anyone who saw themselves as different. " – The Young Folks, 2022 Books You Should Read Based on Your Favorite 2021 Books
"These novels in verse offer stories about LGBTQ people in two eras, illuminating truths about the past and offering touchstones for teens today." Book Page, 2 YA books write LGBTQ people back into history
"This gorgeous book will put your heart in your throat and tears in your eyes, and keep you rooting for its heroines against all the odds." —Sherri L. Smith, author of Flygirl and The Blossom and the Firefly
"Gorgeously brings to life 1932 Berlin with a heroine trying to find her own path in a country on the verge of devastating change. I loved it." —Stacey Lee, New York Times best-selling author of The Downstairs Girl
The Most Dazzling Girl in Berlin was named a Kirkus Reviews Best Book of 2022 and a Boston Public Library Teen Services Best YA Book of 2022. It received a 2022 Nerdy Book Award, a Bulletin of the Center for Children's Books Blue Ribbon, and was also named to the American Library Association 2023 Rainbow book list and the 2023 TAYSHAS list!
More About The Most Dazzling Girl in Berlin:
The Most Dazzling Girl in Berlin is out NOW!
Add to your TBR list: Goodreads
Order: Signed copies at Porter Square Books | B&N | IndieBound | Bookshop | Amazon 
About White Rose:
My debut novel is a historical in verse about anti-Nazi political activist Sophie Scholl. White Rose was a 2017 PEN New England Discovery Award winner, a Winter/Spring 2019 Indies Introduce and Kids' Indie Next title, a School Library Journal, Kirkus Reviews, and A Mighty Girl's Best Book of 2019, the 2019 Malka Penn Award winner, a 2020 Amelia Elizabeth Walden Award finalist, and a Massachusetts Book Honor title. It's out now with Houghton Mifflin Harcourt's Versify imprint! 
Praise for White Rose:
"Real events made deeply personal in an intense, bone-chilling reading experience. (dramatis personae, glossary, author's note, sources)" – Kirkus Reviews, STARRED review
"[T]imely and relevant….This tale based on the real life of a young activist, supported by extensive back matter, belongs in all collections serving young teens." – School Library Journal, STARRED review
 "[M]oving and inspiring….this is a model of well-researched and riveting historical fiction." —Booklist, STARRED review
"Wilson's debut YA novel-in-verse is told in Sophie's lyrical first-person narration and skillfully shifts between Sophie's past and her present in prison as she counts down her days. " – Shelf Awareness, STARRED review
"A radical girl deserves a radical interpretation of the historic fiction genre, so White Rose eschews chronology for a more complex structure, letting Sophie's moral awakening blossom one petal at a time, spiraling out from the turning points that lead to her inevitable fate." – NPR, 3 Young Adult Novels To Help You Out Of Hibernation
"Kip Wilson tells her life story through a novel-in-verse that will leave you wondering why you didn't learn of Sophie and the other members of the White Rose when you were younger." – Seventeen, 35 Best Young Adult Books of 2019 So Far
"This stunning novel in verse simultaneously condemns those who stayed silent and honors the courage of Scholl and others like her who gave their lives in defense of justice." – A Mighty Girl, Sophie Scholl: The German Student Activist Executed at 21 For Her Anti-Nazi Resistance
"It's a gutting, important read that feels all too contemporary." – BN Teen blog, 33 Quiet YA Books that Need to Be on Your Radar Now 
"This tale based on the real life of a young activist, supported by extensive back matter, belongs in all collections serving young teens." – School Library Journal, In Verse: New Titles for Tweens and Teens
"Based on real events and people, White Rose tells a story that will swell—and then splinter—your heart." – The Children's Book Review, 5 Young Adult Books With Narrators Who Find a Way to Stand up and Speak Out 
More About White Rose:
Purchase White Rose: Indiebound | Bookshop | Barnes & Noble | Amazon
Purchase the White Rose audiobook: Libro.fm
Add White Rose to your TBR list: GoodReads
About Me:
I hold a Ph.D. in German Literature and am passionate about books, languages, and history. My writing has won several awards and honors, and I'm always at work on something new. I'm represented by Roseanne Wells of Lucinda Literary.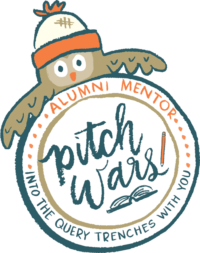 I was the Poetry Editor at YARN: The YA Review Network for five years, and an Associate Editor at Voyage YA for three. I was also a YA PitchWars mentor for two years (2016 and 2017) after being a mentee myself in 2014.  While you're here, check out my blog and interviews, or just poke around my bookshelves. Hope you enjoy!