It's finally official! I can share that White Rose, my debut YA novel-in-verse about anti-Nazi political activist Sophie Scholl, will be published by HMH Versify in Spring 2019. The announcement:
I've written many projects over the past 15 years, but I'm so thrilled White Rose will be my YA debut and so grateful that it wound up at the perfect home. It's apparently so real now that it's even listed on Goodreads (!), so please do feel free to add it if it sounds up your alley.
I should have more to share about the book as publication gets closer, but for now, a couple of pictures to show some of what went in to the project behind the scenes–first off, some of the research (because research is a huge part of the fun for authors of historical fiction):
And of course, one of the most exciting moments in the entire process-signing the contract!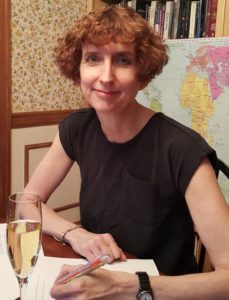 This was most definitely a long road to a dream come true for me, so I'll close by reminding everyone that it can happen! Follow those dreams wherever they lead! <3