My favorite books of 2015 are definitely a strange mix of wonderful and weird. This year, I read a lot of the books everyone is raving about, and while I also enjoyed most of those big-hit titles as well, I have to be honest that the books I love are usually a bit off the beaten track. In past years, I included some adult and middle grade books I loved on my year-end list, but this year, I'm sticking with my favorite young adult titles (although as an added bonus, I'll list my girls' favorite books at the end!). Hope you find something new to love in my list of ten favorites here!
A History of Glitter and Blood by Hannah Moskowitz
I was looking for YA book recommendations with nonlinear plots, and this book, filled with fairies discovering love while warring with gnomes and tightropers in present and past narratives, definitely fit the bill. Beautifully-written story.
Afterworlds by Scott Westerfeld
So this one actually came out in 2014, but I was looking for YA frame stories, and this story does so in such an amazing way, alternating between a present-day teen writing a novel and her main character living that novel. Truly innovative!
Under a Painted Sky by Stacey Lee
I absolutely love YA historicals, and this Western with a Chinese-American girl passing for a boy on a high-stakes adventure was a real page-turner with characters I loved. Can't wait for Stacey Lee's next books!
The Walls Around Us by Nova Ren Suma
I almost forgot about this one because I was lucky enough to read an ARC before the book was officially released, but this story absolutely captivates, with unreliable narration between multiple POVs, a creepy, otherworldly element, and ballerinas in prison. Oh, yes.
When You Leave by Monica Ropal
This book is for the outsider in all of us. While it's a fast-paced murder mystery involving skater kids, it's also a story about finding acceptance and love among scrappy yet endearing characters.
Last Leaves Falling by Sarah Benwell
This heartbreaking story gives the reader a glimpse of what it's like to live with ALS by going extremely deep in the head of a present-day Japanese teen (so deep that it hurts).
None of the Above by I. W. Gregorio
I love two things about the #WeNeedDiverseBooks movement: that people can now find themselves represented in books (when many couldn't before), and that those of us who have no idea can experience those emotions through books like this one about a teen girl born as intersex. I simply couldn't put it down.
Bone Gap by Laura Ruby
As mentioned, I generally like books that are weird instead of highly popular, but I guess some of you others like weird books too, yeah? The whispered magic in this book is there from the beginning, and the dual POVs and twisty turns kept me turning pages like mad.
The Game of Love and Death by Martha Brockenbrough
Another dual POV novel, this book has all the gorgeous and wonderful things I love. I'm fascinated by the 1930s, and if you throw jazz musicians, airplanes, and a magical twist into it, I'm pretty much smitten (as I was by this book if you can't tell).
The Weight of Feathers by Anna-Marie McLemore
This book! Gorgeous writing, fascinating atmosphere, a swoony romance, and just the right amount of magic kept me turning pages and savoring each line. All the high stakes that come with Romeo-and-Juliet-esque warring families along with the unique and beautiful weirdnesses of a detail-rich, special story. My absolute favorite read of 2015.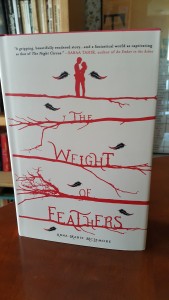 Bonus Material
Since my eight-year-old daughters (twins!) are reading more and more these days but have very different tastes, I thought I'd share their favorites from this year.
One of my girls reads voraciously and loves everything from fantasy to biography. Her absolute favorite was Ophelia and the Marvelous Boy by Karen Foxlee, and the series she's currently devouring is The Series of Unfortunate Events.
The other loves to write so much that she prefers it to reading, but she can't stop raving over El Deafo by Cece Bell (released in 2014), and she also adores the Zapato Power series by Jacqueline Jules.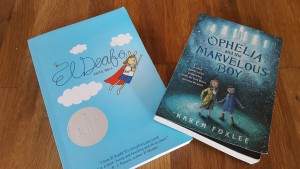 They're not completely on their own though; we still read books together out loud every day. We're currently making our way through the Harry Potter series, and the other book we all fell for hard this year was Rooftoppers by Katherine Rundell. Next up on our read-together list is Princess Juniper by Ammi-Joan Paquette!
Please share your own favorites here!